This blog post is one that I'm really excited to write about. I've fallen in love with flotation therapy, and now I need the world to know that this amazing practice exists, and can be so beneficial to one's health in such an extraordinary variety of ways!
Flotation Therapy for the Mind
Here's the deal: sensory deprivation helps the mind to heal. With the absence of gravity, sound, and light, your mind is protected from outside stimuli, and can finally be left alone to slow down.
Iso Spa is Ottawa's only downtown flotation therapy spa. At first, you're in your own head and keep thinking of everything going on in your life and then your body magically lets go and you start to feel peaceful again!
The fact that you can choose a colour is such a good way to incorporate colour therapy to the float. I love the dark blue when I want to feel relaxed, and orange when I'm in need of energy (almost like the sun shining on me).
*Read more about the benefits of flotation therapy for the mind.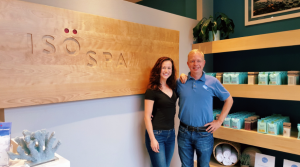 Flotation Therapy for the Body
Think of the tank as a healing place for your muscles, joints, and ligaments. While floating, your body relaxes like never before, and all of those little (or big) aches and pains start to retreat and become less intense.
How?
In Iso Spa's sensory deprivation float tanks, the water is infused with over 1200 pounds of Epsom salts! This helps to immediately ease pain and stress within the body. Since water is very healing in essence, our bodies respond to the physical stimulation that occurs when we're submerged in it. Floating in a dark and quiet space takes us out of our comfort zone and into a place of calm and literal weightlessness.
I actually left my first float feeling happy, relaxed and absent of any body aches (which NEVER happens).
*Read more about the benefits of flotation therapy for the body.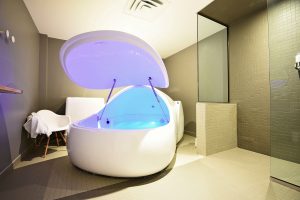 Flotation Therapy for the Soul
When your mind and body are both in alignment with each other, your soul rejoices. In Iso Spa flotation therapy, your mind and body both experience new, blissful sensations that we are not normally permitted. These pleasant sensations please the soul, and your soul will be happy.
If you've ever considered trying flotation therapy, now is the time. In Ottawa, we are incredibly fortunate to have such an amazing place to go to for this! Iso Spa is located downtown, there's lots of parking, and the immediate feelings you get when arriving at the location are those of calmness, relaxation, and acceptance.
To visit Iso Spa's website, go to www.isospa.ca. And if there's anything I can help you with, please let me know! My areas of interest extend to all facets of wellness—it's what made me want to become a health and wellness coach! Contact me HERE, and I hope you have an amazing rest of your summer.
http://www.sophiebelisle.com/wp-content/uploads/2016/08/bigstock-White-frangipani-with-black-st-87655175.jpg
519
900
jenbrowne
http://www.sophiebelisle.com/wp-content/uploads/2016/05/sophie.png
jenbrowne
2016-08-17 06:00:10
2017-12-06 12:53:26
Flotation Therapy for the Mind, Body, and Soul