It doesn't matter whether you're an experienced globetrotter, or if you haven't been travelling much at all: when you're planning a trip (near or far), there are many things to consider before you leave.
One item that far too often takes a back seat, is planning what to eat. What will they serve on the buffet? What kind of restaurants are available? What will be at the hotel? Where is the nearest grocery store? And, especially if your flight is a long one, what do they serve on the airplane?
These are all questions that you should consider prior to departure. If you've worked hard to maintain a healthy lifestyle while at home, over-indulging and consuming the wrong types of food will make you feel not well while away, and down when you return.
It's important to inject your body with good nutrition—even while travelling!
Recently, I made quite a long journey that made me realize how challenging making the right food choices while travelling can be. My sister-in-law is currently living in Sri Lanka with my brother and their two year old son, and she decided to come back to Canada to give birth.
Since my brother is working in Sri Lanka, they came to the conclusion that it would be best to have my nephew join her on the trip back. I could sense how nervous she was to return alone (and very pregnant) with a two year old on this VERY long flight (more than 15 hours to return). So, I decided that I would take advantage of my unused air miles and meet her at her first stop in Doha, Qatar.
(The people around me thought it was a great gesture and some thought I was a little crazy, too!) After all, I did do over 50 hours of travelling in two days (a life experience that I'll never forget—it tested my tolerance on more than one level)! But I took it as a social experience to see what is served in an airplane and in different airports. I ordered myself special, gluten-free meals and couldn't wait to see what that would mean for different airline companies.
My trip was from Montreal to Doha (with stops to Frankfurt and Istanbul). Guess what? All my meals were gluten free and I had no complaints!
The airplane food from Montreal to Frankfurt consisted of two meals. Dinner was a bean salad, quinoa pasta with a vegetable sauce, bread, and a chocolate brownie (which was amazing). The breakfast was a banana and chocolate chip muffin, applesauce, and a lemon-cranberry scone. It was so much food, that I packed some (bread from dinner and the breakfast muffin) in my bag for later if I were to get hungry!
There was only a snack from Frankfurt to Istanbul, since it was a very small plane ride. That was okay, because I had 5 hours in the Frankfurt airport and was able to find a good tea (I wasn't really hungry at that point; more tired than anything).
In Istanbul, I started getting a little hungrier and took the time to eat from a shop selling food that looked like what I would make at home. I ate a beet quinoa salad with a mint lemonade (they gave me a small slice of their homemade cake, and I couldn't refuse!).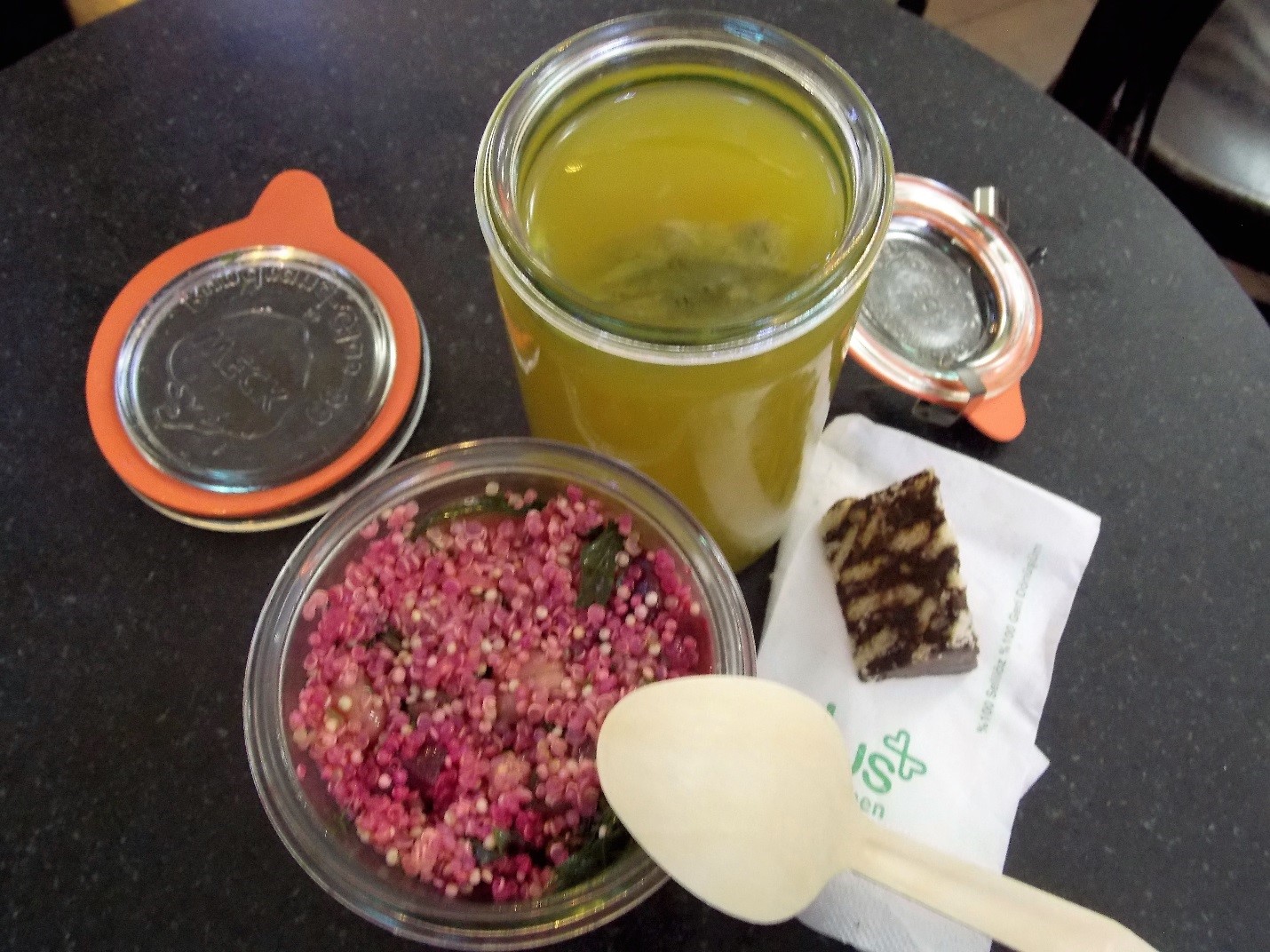 I brought the glass containers back home to reuse them (what a clever idea, right?!). There was also something called a 'Bazaar' where they would sell Turkish specialties (from tea/coffee to sweet treats). I brought back Turkish tea and some Turkish Delights (when in Turkey, right?!).
As for the plane from Istanbul to Doha, I was a surprised how amazing and special I felt receiving my gluten-free meal! I had lamb chops over rice with a vegetable salad and a fruit salad for dessert. The person next to me seemed a little jealous eating pasta where the noodles were congealed together…
On the way back from Doha to Montreal, the food was great (pasta) but I was more concentrated on amusing my two year old nephew than anything else. (My nephew's meal was fantastic! I was kind of jealous of his special kids meal box, served in a monopoly lunch box!)
I had brought from home some healthy snacks for myself, my seven and a half month pregnant sister-in-law, and my nephew. The snack consisted of protein powder/meal replacement (easy meal: all you need is a glass and water), bars (such as Larabar and protein bars), nuts and seaweed snacks (my nephew loves them).
So…all that being said…here are my tips for eating healthy and obtaining good quality, nutritious meals while travelling:
Plan Ahead
There are lots of ways you can prepare foods to take on the road with you. Space might be the biggest issue, and if you're travelling by plane, you likely don't have room for a cooler. Nuts, dried fruits, and energy bars can all easily be packed along for a trip. Most hotels have mini bar fridges and you can request to have them 'unstock' it prior to your arrival. That way, you have room for healthy things you might purchase at a local grocery store there.
Know what restaurants are in the area of where you will be staying. Check out their menus online to make sure you have some healthy choices and make some reservations in advance.
Try to avoid stopping at the first fast food restaurant you see as you arrive to your destination if you're starving! If and when you do need to order from a fast food restaurant, there are ways to make revisions to make certain items a healthier version. (For example: veggie burger, extra lettuce and tomato, hold the mayo.)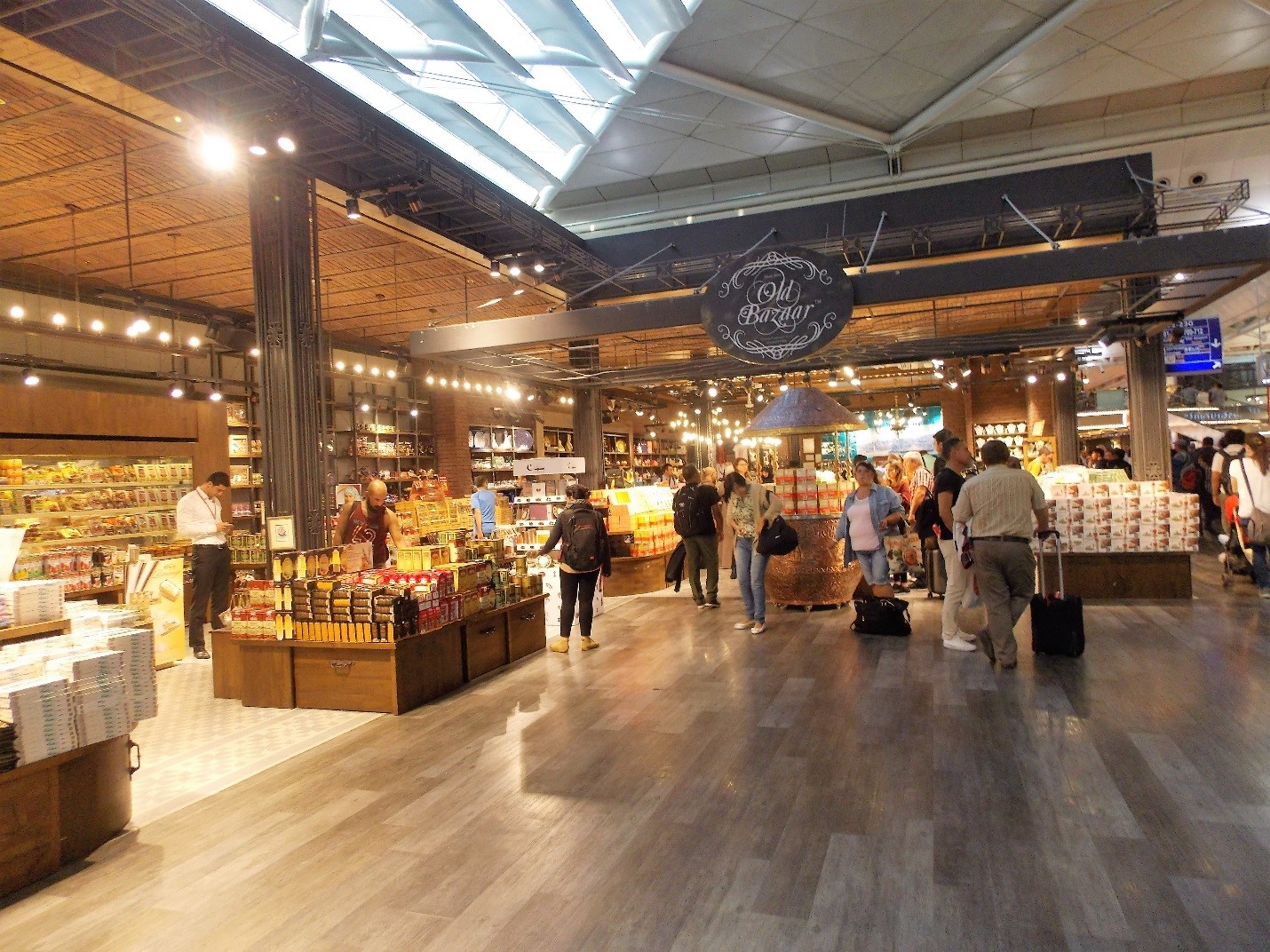 Airports
While travelling via airplane, there are strict rules of what you can and cannot bring through security. Of course we all know we can't bring certain sized liquids through, so don't get caught with extra bottles of water that you'll have to leave behind. There will be several convenient shops on the other side where you can stock up on those!
You can, however, bring snacks like mentioned above in your carry-on bag. If you'll be eating on the plane, make sure to order a healthy meal ahead of time. Often, airlines will accommodate special requests if made far enough in advance.
If you can't pre-order yourself something healthy, try to avoid the airplane meals and snacks altogether, which are often loaded with carbs and salt. Instead, I totally recommend having a healthy meal prior to travelling with lots of fruit, vegetables and high-fibre to help you feel satisfied for a longer period.
(Remember: many airports have a variety of good restaurants where you should be able to fill up on goodness!)
Be Mindful
If you're on a cruise ship or at an all-inclusive resort, you're in for a treat! Take a look at the entire buffet menu before serving yourself. The salad bar is likely going to be the star of the show with so many fresh options! Avoid greasy or deep fried foods; you don't want to feel sick while on vacation.
Also? Keep hydrated. Travelling can be hard on your system, and it is important to keep hydrated by drinking plenty of water.
Keeping a healthy diet up while you travel will truly make a world of difference of how you feel. The most important thing to do is have a good time! If you would like any more tips on how to eat healthy while travelling or recipe ideas on what foods to prepare before travelling, visit my website or contact me directly!
Happy travelling! Love, Sophie.
http://www.sophiebelisle.com/wp-content/uploads/2016/11/bigstock-Salad-in-a-jar-food-to-go-107695541.jpg
600
900
jenbrowne
http://www.sophiebelisle.com/wp-content/uploads/2016/05/sophie.png
jenbrowne
2016-11-20 09:00:05
2017-12-06 12:53:26
Travelling? Here's How to Eat Healthy.