The health benefits of halotherapy (also known as salt therapy) have been known for a very long time. For centuries, people have trusted the benefits of halotherapy to relieve respiratory illnesses, improve skin conditions and strengthen their immune systems.
What is Halotherapy?
As the salt is inhaled, it travels through the sinuses and respiratory tract absorbing moisture, cleansing, clearing mucus and killing bacteria. Studies have shown that people with chronic upper respiratory conditions, seasonal allergies, sinusitis, bronchitis, and skin disorders can derive significant benefits from halotherapy.
My Love for Ottawa's Saltwave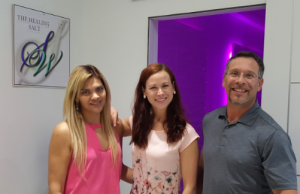 Located in Westage Shopping Centre, Ottawa, Saltwave is an incredible space for therapeutic breathing is simply amazing. Sessions run for 40 minutes, but mimic the benefits one would receive from spending 2-3 hours in a natural salt mine! It's completely sterile, safe, and an effective treatment for not only the disorders listed above, but also digestive issues.
If you live in the Ottawa area, and are interested in taking a workshop that combines breathing and halotherapy, I will be hosting one soon! Check it out:
Breathing Workshop 
From detoxifying your body to relaxing your mind and releasing tension, the health benefits of breathing correctly are endless. Breathing correctly is not only important for living longer, but also for keeping a good mood and performing at your very best.
In my upcoming 60 minute breathing sessions (stay tuned!), we will be combining the benefits of breathing exercises with the therapeutic effects of halotherapy. Be sure to check back often to find out where I'll be holding breathing workshops, and join me for what are sure to be fabulous workshops on breathing and salt therapy; you won't regret it!
For more information about halotherapy, watch the video below. Also, find me on Facebook, Twitter, and Pinterest for more wellness ideas.
[youtube https://www.youtube.com/watch?v=VL6cA3HBjKk]
http://www.sophiebelisle.com/wp-content/uploads/2016/06/salt.jpg
716
1055
jenbrowne
http://www.sophiebelisle.com/wp-content/uploads/2016/05/sophie.png
jenbrowne
2016-06-08 06:00:40
2017-12-06 12:53:27
The Healing Benefits of Halotherapy