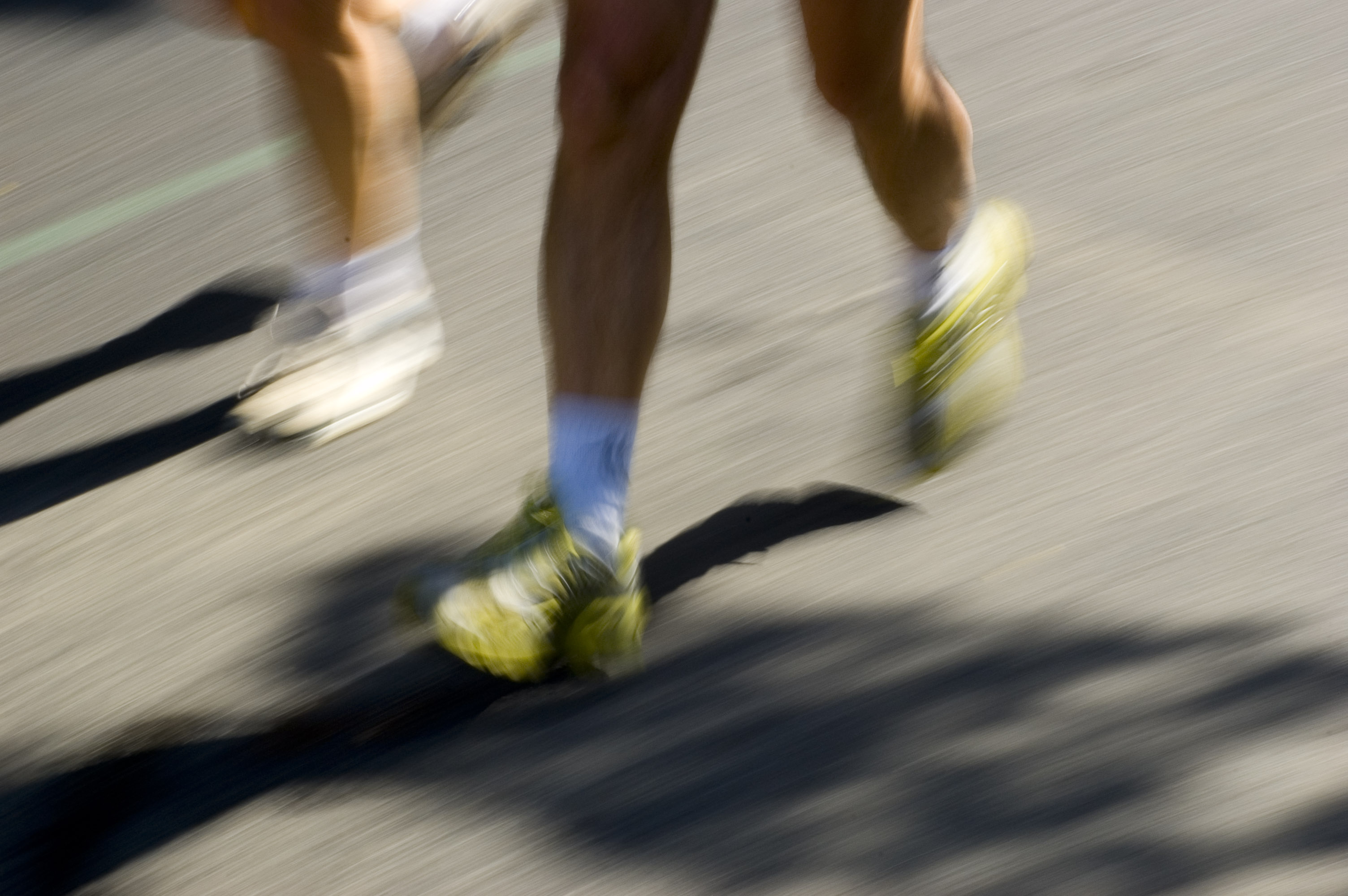 A few years ago, I decided to compete in a half marathon race. I've been running since I've been a teenager, and for me, nothing would beat the emotional and physical feeling I would get at the end of a long race. Emotionally, you are so proud of your success, and physically, you have mixed feelings of being tired, and on a runner's high. But this race was different for me; it gave me a little twist that I had never experienced before.
Anyone who knows me is aware of my competitive spirit. It's all in good fun until you try to go above and beyond what you've been practicing, and hit what runners or fitness competitors call "The Wall". It's easy to recognise "The Wall": It's the point where things change from going very well to being VERY challenging for your body and your mind. For me, it's the point where all the plans that I'd put together before race day went out the window! Although it was a struggle, I did finish that race and will remember it for the rest of my life. The amount of games my brain and body were playing on me, helped me in all the other races since then. It also helped me recognise my limits and know what to do to in other stressful life events.
Today, I am here to give you strategies to use when you face "The Wall", and get you ready to cross the finish line with happy, and hopefully painless memories:
Race Pace – Start the Race Smart
There are two types of race paces: Your "I can" and your "I am able to" pace. For example: you've been practicing to finish your full marathon race in two hours (in the perfect weather and health conditions). So, on race day, although your mind and body is ready for what you "can" accomplish, you get excited by the crowd, and maybe you spoke to another runner who mentioned that he/she would finish in one hour and a half, which leads you to decide that you will pace a little more than practiced…well, until things start to hurt and go really, really wrong for you! You are not the only one who tries to do this. Whatever the reason, it seems that many runners seem to simply start too fast. I have no doubt that you are "able to" go faster than your goal time, but trying it out on race day might not be the best time to achieve that new goal. My recommendation to you would be to try running the race you've been planning in your head and see how you feel at the half way mark. That will be the best indicator of what your next move should be.
Have you ever found yourself finishing a race, noticing that you now seem to have your energy restored, and thinking that you could have done better? I don't think I have to convince you that re-fueling your body with food and water during the race is a good idea. Food/water can be your best friend when your energy starts to drop. Just make sure to incorporate that food/drink in your pre-race routine to find out what makes you stronger and gives you that boost of energy you need; instead of weighing you down and giving you stomach cramps or other body troubles.
More good food tips can be found at: http://www.runnersworld.com/running-tips/avoid-hitting-wall?page=single or http://www.pamf.org/teen/health/nutrition/sportnutrition.html
Mind over Matter –Use Your Inner voice
What's the challenge for this race: It's raining and you feel like you weigh 10 pounds more? Heat wave? You're starting to feel fatigued? A cramp? You just saw a teenager wearing flip flops pass you? Argh! When your mind starts to play games with you, it's easy to find any reason in the book to think negative thoughts and even stop racing. You now need some tools to tell yourself that everything will turn out fine. Many fitness professionals and Olympic athletes see a sport psychologist to find out how they can accomplish this by using "self talk"; which entails repeating a positive phrase or word over and over again. So, when you are nervous about a certain event, or starting to feel body aches, choose a word or phrase that will make you want to continue your journey with a smile or at least a positive spirit (re: "I think I can, I think I can…").
Another good tool would be to remember the bigger picture – take time to remember why you are doing this race in the first place. Is it to prove to yourself that you are able to reach the finish line? Are you doing this to be a good role model to your family and friends? Or maybe you want to compete for fun? Donations to a cause might encourage you to stay focused on your running routine, and will help you stay on tract on race day. You could also make it a team effort by joining a running group, or even be there for another runner who might be having a difficult race, and might need a pat on the shoulder or a cheer.
As a health and wellness coach, I use visualization tools quite frequently because I see so many benefits and results out of them. This is a good tool to use to practice what your race would look like (practice the "what if's"), by using your own imagination. You can do this during one of your rest days. There's two ways you can do this: you can do a visualization of a successful race or one with some challenges. Both are important to practice since the point of this exercise is to feel prepared for anything that might come your way on race day. Here's what to do:
Find a peaceful place (You may sit or lay down; whatever feels more comfortable to you), close your eyes, picture yourself running what you consider your perfect race. Take the time to smile, to feel the wind on your skin, and hear the surrounding sounds. The crowd is cheering you on. You cross the finish line and see your friends and family waiting to congratulate you. You can't believe what a fantastic experience you just had. Open your eyes and take a moment to reflect on how you feel. The feeling of happiness might help take some of the pre-race jitters out.
It's also important to picture what would happen if you felt some kind of discomfort or had some kind of difficulty arise during the race. Do the same scenario as above, but include a few challenges to your visualization. Being prepared for the "what if's" will take some stress away and will help you feel in control of any situation that might come your way before and on race day.
The last topic I would like to discuss is about music and it's positive benefits. Some runners do prefer to listen to their surrounding sounds, and that's okay too, but for those of you that like to listen to your favorite tunes while racing, some studies have shown that "listening to music while running can boost performance by up to 15%. …music would allow you to mentally block any discomfort you may be experiencing during your run and allows you to continue to perform at a higher level than if you went without." (http://runneracademy.com/does-music-enhance-running-performance/). In other words, there's something magical that happens to your mind and body when you listen to your favorite tunes! Food for thought: make sure your music has the beat/tempo that you would like to keep during the race, to make it easier to follow. Also, when you start to feel tired, achy or if your mind starts to play games on you in the pre-races, you might want to consider taking note of the specific time periods that happens, and add  to your playlist a "pick-me-up" song or some positive reinforcement messages during that specific time (or in the half way mark of your race) to use on race day.
Here's a few sites where you can download and/or purchase running/fitness music that counts the beat per minute: http://www.clickmix.com/getting_started.html, http://www.rockmyrun.com/, http://jog.fm/app
Here are a few apps that you can listen to with positive affirmation messages: http://appcrawlr.com/ios-apps/best-apps-affirmation-cards, https://itunes.apple.com/ca/app/affirmations!/id328011102?mt=8, http://www.appholic.cc/health-fitness/affirmations-for-cardio-workout-with-music
Take the time to embrace the challenge. "The Wall" might come your way, but be mindful that it's only a little hiccup, and you are in control of what will happen from now on in that race or competition. Just like my half marathon experience, every experience makes you learn something about yourself and what you can accomplish in the next one. Smile, have fun, and remember that there are many people who would pay a fortune to be able to run or participate in a sport event like you; You are a hero for making it this far!
*This is a special dedication to the Orleans Running Room marathon runners as well as anyone else seeking good tips to get through their first race or looking to improve the next one.
http://www.sophiebelisle.com/wp-content/uploads/2014/07/Legs-Running.jpg
2000
3008
Sophie Bélisle
http://www.sophiebelisle.com/wp-content/uploads/2016/05/sophie.png
Sophie Bélisle
2014-08-07 20:05:51
2017-12-06 12:53:52
Facing "The Wall" During a Race